Metal Printing 101 (2021)
Metal Printing 101 (2021)
Metal has always been my favourite form of printing. Photographs come alive on the medium and get transformed with it with its magical illuminances. Metal prints are not for every photograph, that's why deciding how to display your photographs is almost as important as deciding how to shoot them.
What are metal Prints?
Metal Prints are Made by infusing dyes directly into specially coated aluminium sheets. Because the image is imbued into the aluminium sheet, it becomes clearer and more radiant.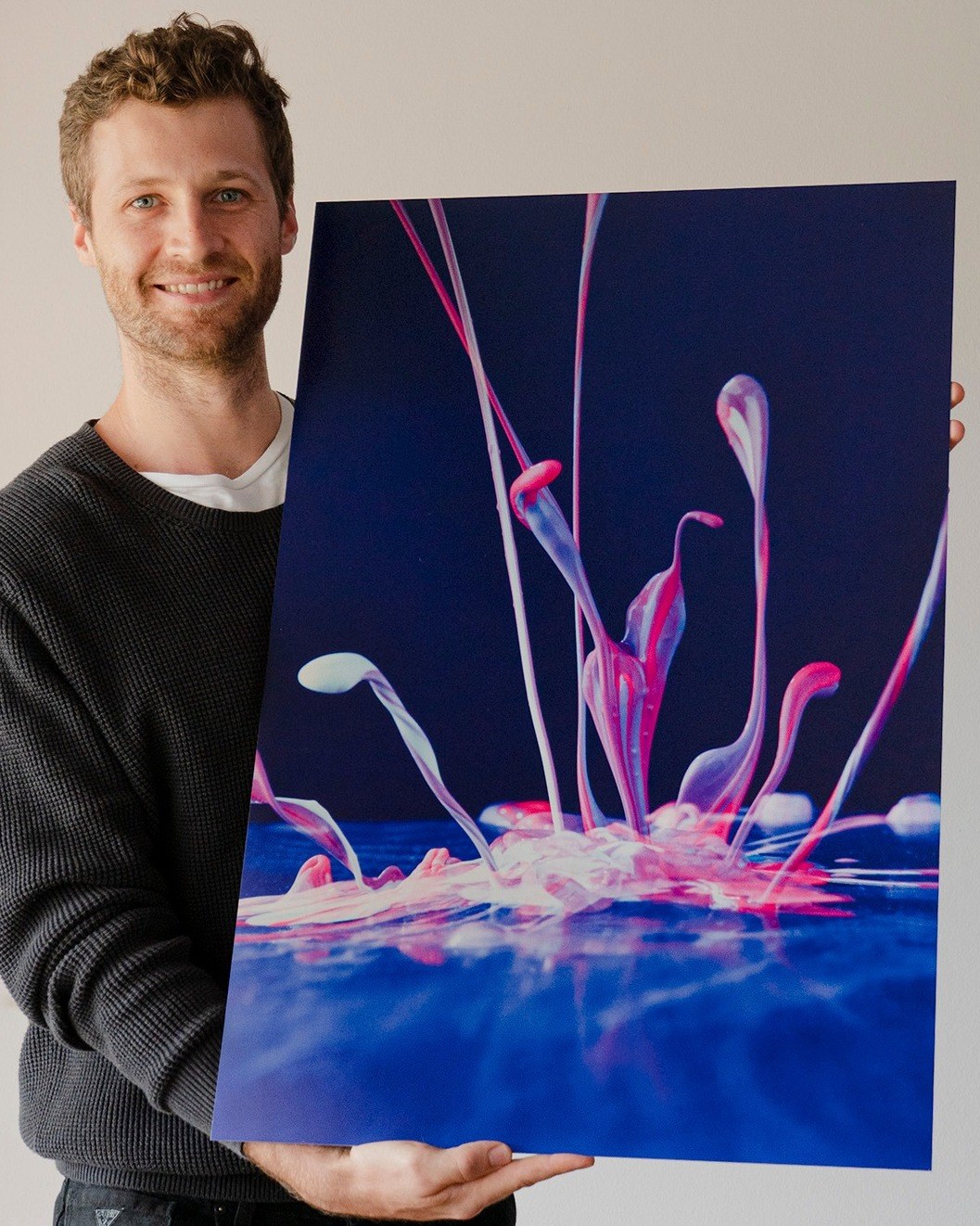 CHARACTERISTICS OF A METAL PRINT
Vibrant colours
Punchy Contrast (Deep Blacks)
Crisp/Sharp Images
The Pro's and Con's of Metal PRints
Pros
Print Quality
Durability and Archivability
Cost Effective
Frameless Design (Sleek)
Easy to Clean
Cons
Not all photographs work on metal
Can't change the artwork
Doesn't work in all settings
Glossy Finish (Depending on the type of finishes you can choose from)
Direct Sunlight
Note : Choosing a Matte Finish Metal Print Eliminates the short-coming's of a glossy finish.
Print Quality is hard to beat. The colours are vibrant! Contrast is vast and deep. Sharpness is unmatched! The stunning appearance of metal prints magnifies the beauty of almost any photo, from ordinary to extraordinary due to its magical illuminances properties.
The archivability of metal prints is impressive because of their durable material. They're scratch-free and don't fade easily. Research has shown that these prints could last up to 160 years. Metal prints can have a magnificent finish that is weatherproof (If you choose the right coating) so you can hang them in the kitchen, bathroom, or even the playroom without worrying about damaging them.

Although metal prints are an excellent value for money, they're not cheap. They usually cost more than traditional prints of the same size.

Metal prints use a frameless design, which gives photos a nice clean ,sleek look. You don't have to think about framing or matting your photograph. When ordered with a wall mount, you can have your artwork ready at less than half the time of a custom-framed traditional photo print.
They're also really easy to clean. A soft dry microfiber cloth can get the dirt off, but you can use a wet cloth if you need to. More on this later…
Expanding on each Con
Not all photographs work well on metal. For best print results, you will need pictures with vibrant colours and deep contrast to ensure that the aluminum showcases your photos in the best light. More on that below…

You can't swap out pictures like in traditional frames, so you have to select a photo you'll appreciate for a long time.

Metal prints can look out of place in more traditional settings. You have to think carefully about where you want to place them before you go ahead with printing.

Glossy Finishes are not to everybody's taste. While the colours are more vibrant, reflections are noticeable and can be distracting. I always choose a Matte Finish as it eliminates this reflection issue while still letting all the vibrant colours through.

Direct Sunlight on any Print or Artwork will make it fade overtime. That's why its always recommended to place your artworks out of direct sunlight.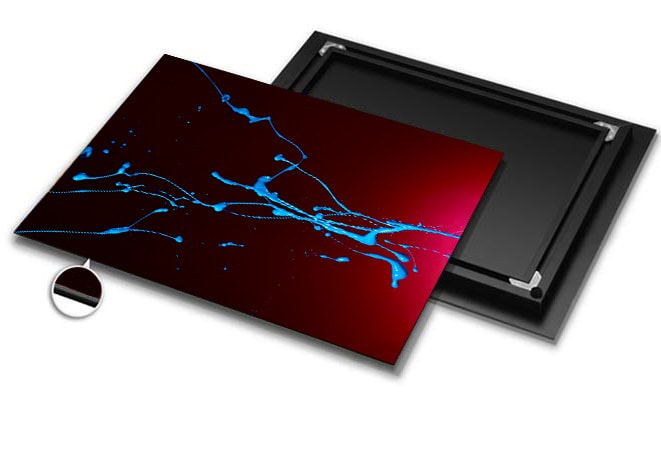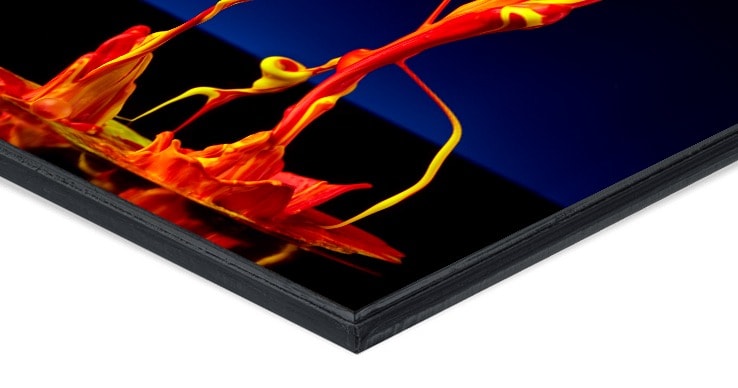 What kind of photographs work on Metal?
As a general guideline, Images with lots of contrast & vibrant colours. Such as,
·Seascapes – The shades of blue in the sky and ocean look so pleasing to the eye. There is so much detail in the waves that it feels like you could touch and feel the water with your hands. ·
Landscapes – Landscapes are naturally abundant with vivid colour. That's why many landscape photographers choose metal for their galleries. Fall foliage look unbelievable on metal. Head-turning yellow leaves of the Colorado Aspens are a must see on metal. ·
Sunsets – Want to see a sunset ignite your wall? The rich warm colours of sunsets come alive on metal prints. The spectrum of colours between yellow and red pop with so much intensity. ·
Black & White – What?! Yes, black and white photos! They look great on metal. You're thinking, "You just told me to choose images with bold colours. Why are you contradicting yourself?" Truth is … metal offers unprecedented contrast. The blacks are so much deeper than any traditional print. Black and white photographers are always looking for contrast to get that great "pop" in their images. Metal has that in spades.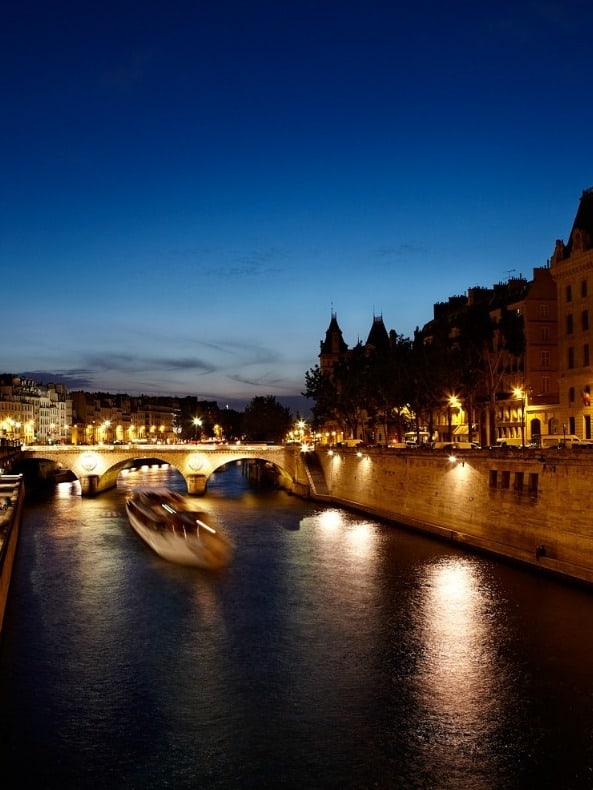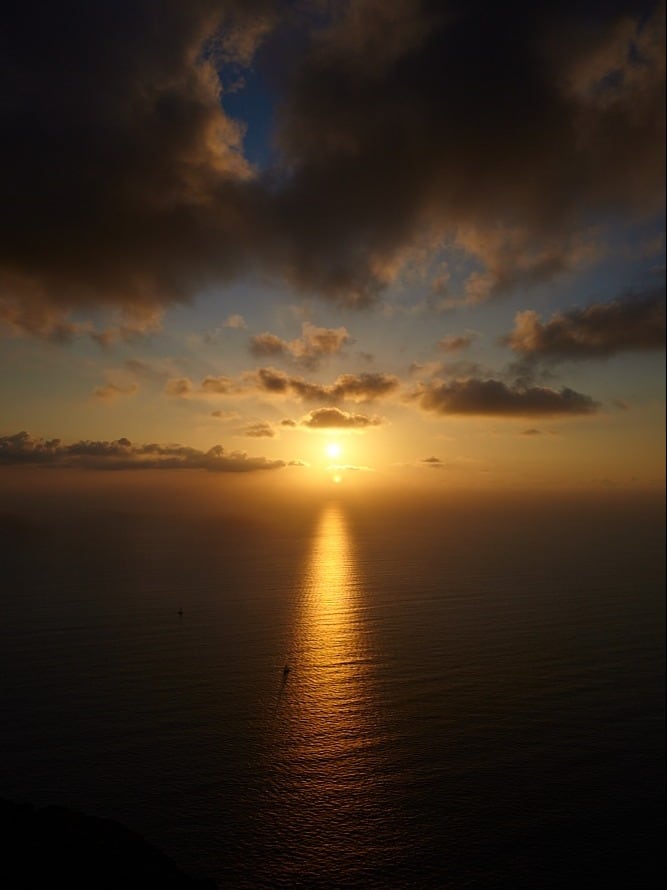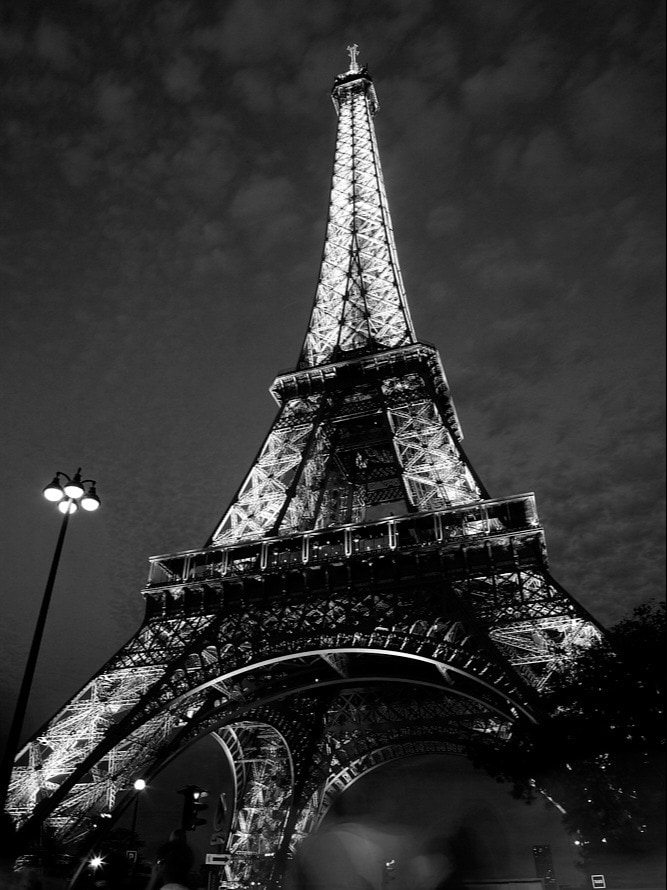 WHAT KIND OF INTERIORS WORK FOR THIS MEDIUM?
Metal prints look most natural in modern or contemporary interiors. Their chic modern look and feel make them very popular. Due to high contrast finish and bold colours they'll fit really well in interiors with simple clean furnishings and nice polished surfaces.
How should Metal Prints be cleaned?
Non-ammonia glass cleaner, water, or isopropyl (rubbing) alcohol can be used without harming the print surface. I recommend using a clean, lint-free cloth to wipe off the print. No cleaners containing ammonia, abrasives, or corrosive chemicals should be used.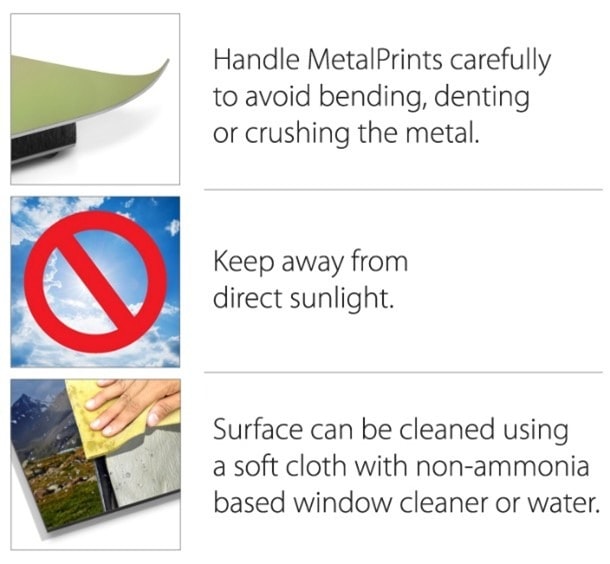 What type of lighting should be used to display Metal Prints?
For displaying Metal Prints, I recommend halogen, bright white incandescent, full-spectrum LED, or other bulbs with a high CRI (colour rendering index). Indirect natural daylight also can work, but it must be indirect in order to prevent fading over time, and will also change the way the print appears throughout the day. Certain types of lighting, such as standard fluorescent bulbs, emit light that is partially absorbed or scattered by the Metal Print surface, and the green part of the spectrum reflects to the eye more than other colours. Changing the type of lighting will affect the way all prints appear, but Metal Prints are affected more so. This is called metameric failure. Using light bulbs with a CRI of 90 or higher will help you see consistent results, especially when comparing different types of prints.
It makes a statement and you've never seen a more brilliant and impressive print! Colours are vibrant and the radiance is breath-taking. Their waterproof, scratch-resistant surface makes a Metal Print my most hygienic and durable medium. But Ultimately, the best choice for your home decor is what makes you makes you happy.